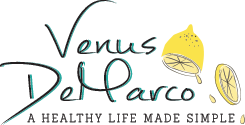 Feasting Vegan
Ready to host your next dinner party without all the fuss? Vegan chef, Venus DeMarco, will prepare a sophisticated,
flavor-forward and plant-based menu in your home. All you'll need to do is set the table and invite your friends!
We shop locally and organically whenever possible. Our menu is strictly vegan: no animal products (including dairy) are ever used.
To guide you in selecting the perfect wine with your menu, our Sommelier is available for expert pairings from our wine cellar or yours.
"We are still savoring the incredible vegan feast Venus happily fed us in Michigan two Novembers ago! What a great day!
The talk she gave the night before was such an empowering and valuable speech." Marilynn D., Detroit MI
Appetizer
Chef's choice selected to complement your menu
Soups
Cream of Broccoli
Chilled Creamy Zucchini
Minestrone
Salads
Caprese Salad with Fresh Basil and Balsamic Dressing
Magnificent Green Salad with your Choice of Italian or Cashew Plum Vinegar Dressing
Fennel Salad with Cucumber and Dill
Savory Crabless Cakes with Dill Tartar
"Crab Cakes" with dill tartar sauce, seasonal vegetable side and roasted chipotle sweet potatoes
Soul Food Feast
Baked mushroom walnut loaf served with Kuzu gravy, roasted Brussel sprouts and choice of mashed potatoes or mac and cheese
Desserts
Raw Salted Caramel Chocolate Pie
Pumpkin Cheesecake
Apple Pie with a Scoop of Non-Dairy Ice Cream
Homemade Truffle Assortment
Ravioli Cruda (Raw)
Jicama ravioli stuffed with a delicate nut cheese and pesto, side of zucchini spirals with alfredo sauce
Menus begin at $100 per person (Sommelier service extra)
"Venus prepared an array of mouthwatering vegan food that made even the meat lovers amongst us crow." Diana, Naples Fl
To begin planning your menu, click the button below.